(for additional pics, see previous post by scrolling down a ways and please forgive the wonky formatting of this post. Something funky is going on, but the info is still great!).

Time is definitely flying by. We celebrated Theo's 2nd birthday with a "daddy-made" cake the morning of the day I left for France. Boy did that day arrive fast! 2 years old already. Really?


The interesting thing is that while I was in France, I remembered some important things about slowing down and enjoying life. I implemented a few key changes since I've been back and I've already seen some improvements in my life and in my family's life. So, I thought I would share those with you in today's featured article:  "10 Ways The French Cultivate Radiance & Attractiveness". Enjoy!
10 Ways The French Cultivate Radiance & Attractiveness
Wow, what a trip!
As you might know, I just spent 3 weeks in France and I'm really excited about sharing a few nuggets with you that I picked up (or more accurately, remembered!) while I was there.
You see, whether you like the French or not, there is an energy and a way of being, some principles they generally abide by, which are really good for one's  Radiance, Attractiveness and Presence. It might be one of the reasons so many people find the French attractive? Worth looking at…
[Now, I'm not saying The French are perfect and you should do everything they do! Far from it. Yet, I have chosen to skip over the "don'ts", because we all know that smoking cigarettes is bad for your health, ages the skin and gives you a hoarse voice, for example, all of which affect your degree of attractiveness].
Before I go any further, I wish to talk about attractiveness and Beauty. They are 2 different things. Attractiveness is the ability one has to be magnetic, appreciated, wanted, desired, not only in a romantic fashion, but in business as well. We want to do business with people we "know, like and trust", that means that we are "attracted to". Wouldn't you agree? That's what I believe.
And what I know is that as women, we often feel so much pressure to "be Beautiful", and when we don't think we are beautiful, we judge ourselves negatively and can even give up on "making an effort".
And it's true, not everyone is born with the qualities that our society has defined as "Modern Beauty" (although I believe we all have our own flavor of beauty) yet, everyone has the ability to be attractive, no matter their age, size, ethnicity or background.  Why do I say that? Because attractiveness starts within and it starts with believing you can be attractive and then doing things to help you with that. It does take some time, energy and effort. But isn't it worth cultivating? I believe it is. And here are 10 ways to help you with that!
1. RELAX….Aaaaaaah!!!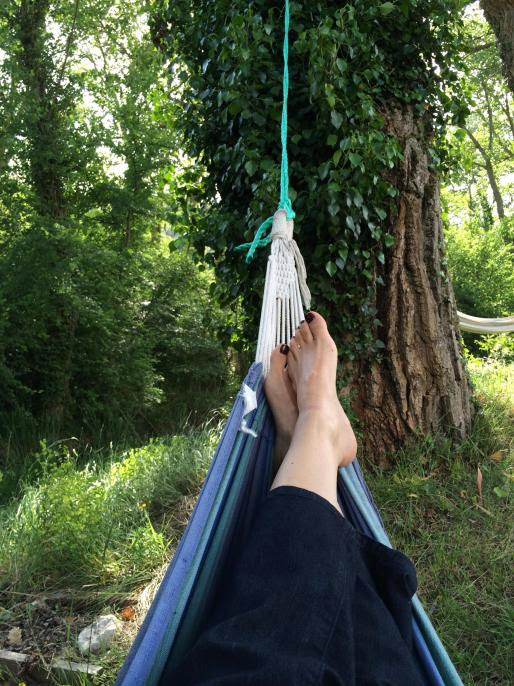 In our day and age, we are moving so fast. Literally, as in airplanes that go 500 – 600 miles per hour, or cars that go 100 miles + per hour. Figuratively as in from one  phone call or meeting to the next, without a break, having 50 windows open in our internet browser,  our mind constantly going.
The French seem to have a way of slowing down and relaxing that is built into the lifestyle. Most boutiques are closed an hour or two at lunch time and on Sundays. People there take time off and enjoy longer vacation than we do in the US.
Giving yourself the time to relax is crucial.
The problem is, if it's not in your calendar, it probably won't happen. So, make sure you allow some time in your schedule, be it with a good book or on a massage table. Treat yourself to some down time. You deserve it and your to-do list can wait…
(This pic is of me relaxing in a hammock in Rennes Le Chateau, a Magical little village in the South of France where I did a personal retreat before starting my work in Paris. It was exactly what the doctor ordered!!!)
2. GET OUTSIDE!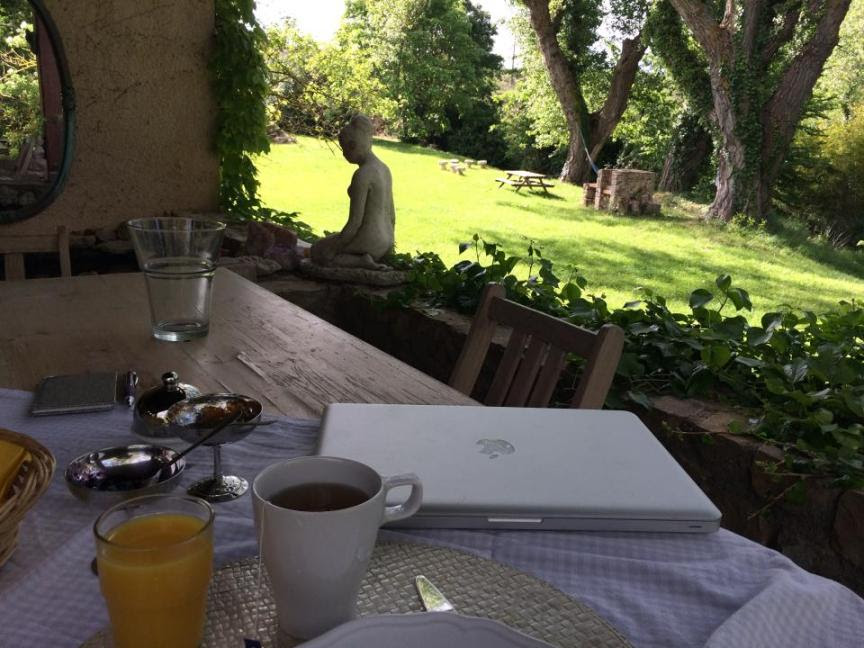 One thing that makes me feel great and gives me the impression to be on vacation even when I'm not, is eating outside. France has a lot of terraces at cafes and restaurants to enjoy the outdoors. Something you can do now is take your breakfast Al Fresco (laptop there for once you're done eating, so you can have an "outdoor office" too). Or take a few minutes to get outside during your lunch break. Your body will enjoy some much needed sun light and your mind will be more relaxed and creative!
(This pic is of my breakfast nook  at the Bed & Breakfast I stayed at in Rennes Le Chateau)
3. ENJOY YOUR FOOD!!! 
So, here is the thing, The French not only make what I consider to be the best food in the world, they also take their time eating it. They understand that a meal is a time of celebration and enjoyment and in fine restaurants, they only expect one seating, meaning they don't pressure you to leave because they want other people to come and sit down. On the contrary they want you to stay as long as possible and enjoy yourself.
Treat yourself to a long luxurious meal with your spouse/partner or a friend, and take as long as you want without feeling rushed, and enjoying the company. Bon appetit.
(This picture was taken with my client and amazing business woman who is up to great things, Lee Richter and a new amazing friend, Leona Wallace (and the Fabulous Lindsay Miller was taking the picture, of course!) and we had the most exquisite meal at a 3 Star Michelin Restaurant in Paris named "L'Ambroisie". Absolutely divine. I highly recommend it!)
4. EAT AT A TABLE AND BE MINDFUL WHILE YOU EAT
This might sound obvious, yet it's true and the French have it down. It's really rare to see people eating walking down the street or in their car. They allot time for their meals and they sit down.
It's one of the most basic and important ways that you can be good to yourself. Take the time to sit a table (no, your computer desk doesn't count!) and avoid distractions (like TV, movies etc…) while you eat, except the company of your family or friends.
Ayurveda (the traditional medicine of India I am trained in) says the same thing. Having your attention on what you eat and actually chewing more allows you to digest your food better and eat less. And if you are in a hurry, it's better to eat less, slowly, than to eat more food without chewing properly. Watch your digestion improve and you might even shed a few pounds with this healthy practice!
5. SURROUND YOURSELF WITH BEAUTY
France is magnificent! If you've been there, you know what I'm talking about. If you haven't been, you'll be delighted when you see it (in fact you will have a chance to come back with me, perhaps in October when I go back, I'll tell you more about that opportunity in an email later this month, so stay tuned….)
Seriously, the countryside is breathtaking and so is the architecture (and the people are not bad to look at either ;). In addition, people have a keen sense of beauty. They appreciate it and want it around. I was talking with the lady I rented my flat from, and it's amazing, right on Place Des Vosges, in one of the oldest areas of Paris. And she said to me, "I don't buy anything that I don't think is beautiful". Wow! What a value to live by. When you see Beauty everywhere you look, it makes you smile and uplifts your spirits. So choose the things that you love and are beautiful in your environment. You can start by adding something you love to look at and place it near your computer, so you can see it often while you work.
(This pic is of a room in the Chateau de Chantilly, one of the most beautiful Chateaus in France where Lee and I spent a day)
6. PAY ATTENTION TO DETAILS
The French are notorious for paying attention to the details that make a difference, be it from how the presentation of the food they serve, to the way they wrap the clothes or jewelry in the Parisian boutiques. The daintiness, the delicacy, the coordination, the color schemes, it all creates an impression. When you put yourself together, when you get ready, slow down, pay attention and make sure all the little details are handled.
When you give a gift, take the extra 30 seconds it takes to make sure the silk paper is folder properly. The prettier the packaging, the more value one attributes to the gift! Think of the little blue box: Tiffany or the little red box: Cartier. Doesn't just seeing the box triggers an assumption of luxury, prestige and quality? So use that to your advantage. Remember, you are a gift to all those that surround. And the classier "your packaging", the more valuable people will attribute to you and your gifts.
(Pic above is of the main course I had at L'Ambroisie. And pic to the right is of some curtains in the flat I rented in Paris. They are made of the finest linen and I love how they are tied, as well as the iron work on the window).
7. EMBRACE YOUR FEMININE QUALITIES
France, if I had to give her a gender, would be feminine. Many of the feminine values are honored, respected, cherished and encouraged there. Creativity, Art, Beauty,  Sensuality, Enjoying Life, Being in the now moment. The pace is different, it allows you to slow down and drop into yourself. So naturally, you can savor a more juicy, yummy and exquisite experience.
So nurture the feminine aspects of you. Best ways to do that are dancing, spending time in nature, doing Yoga, Meditation, going to the Spa with your girlfriends, being extremely nurturing and good to yourself and one of the biggies: listen to your intuition. And of course, this list wouldn't be complete without the "savor some chocolate" mention! (Here I am savoring a cup of the best chocolate in Paris, at Angelina's).
8. LEARN FROM THE PAST (don't reinvent the wheel)
There is so much history there and the stones, the buildings, the beams, all tell stories. There are also traditions and ways of doing things that have been passed down for generations. Learning from the past cuts down learning time and doesn't stifle innovation, yet gives an unfair advantage.
Standing on the shoulders of giants in your lineage, honoring those that came before you and learning from them, and of course, not reinventing the wheel are great ways to achieve more with less effort. What can you re-purpose, re-use and transform in your wardrobe and in your business that can be useful for you and save you time, energy and money?
9. GIVE YOURSELF THE BEST OF THE BEST (treat yourself like a VIP)
The French are notorious for wanting the best of things. Best ingredients for their cuisine, best perfumes, best clothes, etc… And I must admit, enjoying Paris with a private chauffeur is a different experience than taking the metro! (Here is our private chauffeur in front his car when he came to pick us up one morning).
Something really amazing happens when you let yourself receive a much higher level of service. All of a sudden, things become easier and you start to enjoy the kinds of experiences you truly wish for. Life becomes more fun and exquisite. Go ahead, give it a try.
And Lee Richter taught me so much about that on that trip as well!  (Thank you Lee!
)
10. MAKE IT A POINT TO DO THE THINGS YOU LOVE
It's true that being an entrepreneur is amazing. You are so blessed to make your own hours, work with your ideal clients and do something you are passionate about. What a blessing!
The challenge, though, is to keep healthy boundaries around "work time" and not let the business take over all aspect of your life. Before I left for France, I was definitely working on that one myself and being in France helped me "reset" things to a healthier level because the French, it seems, have their priorities straight: joie de vivre et qualite de vie (Joy of Life and Quality of Life are two biggies there).  My husband is happy about my new commitment, and so am I.
To be more magnetic, more attractive to the things and people you want to draw to you, do the things you love and which make you come alive.
Embody what the qualities, energies you want to experience more of, now. Why wait?
Meditating in the cave in the South of France where Mary Magdalene is said to have spent time was a dream of mine, and I did it. That was a highlight of the trip for me. What have you been dying to do that you have been putting off doing? Schedule it. Do it soon. And tell me what happened as a result. I'd love to hear.
Here's to your radiance!
Nathalie
PS: I have a resource for you if you would like access to a private car at a rate more affordable than a taxi: Uber. Started in the San Francisco Bay Area, that company has expanded to most major cities.
All you need to do is download the app to your cell phone and sign-up for a free account. You pay as you go. We used it a lot while in Paris on days we didn't have our chauffeur and I am now using this service when I travel, using it instead of airport shuttles and instead of taxis.I love it because:
You can see how close the car you are requesting is.
You can choose the kind of car (regular up to "black car, which is nicer).
You can pick your driver based on a review and rating system.
There is no exchange of money between you and the driver, it happens automatically within your account (so even if you have no cash on you, you're never to be stranded again!). And,
The drivers tend to be a lot friendlier, safer and more helpful than cab drivers.
When you sign-up with this link you will receive a $10 credit toward your first ride (and so will I). Win-win. Give it a try and tell me how you like it.  Hopefully you will love it too.
Click here —> https://uber.com/invite/uberNathalieInvite